"If all that glitters is not gold…then it is definitely diamonds!"
Says Vajra Jewels. Industry leaders in manufacturing and designing precious real and natural diamond jewellery, and also a client for whom we manage jewellery advertisements and digital strategy in Ahmedabad . We also manage their Instagram page, which we grew from 3k followers to 10k followers in 100 days!
But first things first…
Why Do You Need Jewellery Advertisements And Marketing On Instagram?
With over approximately 800 million monthly active users, Instagram is among the top 5 social media platforms. Making it an absolute favourite of the best social media marketing companies worldwide. These active users have a vital role to play as followers and brand advocators. Followers can contribute to the success of a business by liking or reposting posts, sharing them in stories and even referring the posts to others via DMs.
From a jewellery branding agency standpoint having more followers can have the following benefits:
Interest potential customers
Develop a rapport with existing and potential customers
Increase visibility
Lead to more interactions
Attract more followers
Promote your brand value faster
With this understanding of followers, before we dive into how the best jewellery branding agency in Ahmedabad grew Instagram followers for this account, let's understand the client's background.
Vajra began in 2003 as a B2B jewellery brand with an in-house designing and manufacturing unit with a penchant for creating unique and custom jewellery with real and natural diamonds. Long before onboarding a digital marketing agency for Instagram marketing.
After many years and many more business exhibitions across the nation the founders decided to extend their diamond jewellery business to the B2C market. They made their unique and custom designs available directly to retail customers.
To keep up with the changing times, they on-boarded the top digital marketing company in Ahmedabad, Flora Fountain as their "digital therapists". In this role, we created a digital strategy and then executed this strategy as their branding agency, logo designers and website development company, while also managing their social media efforts.
And then through concentrated efforts of digital strategy, thoughtful promotions and engaging content, we were able to grow Vajra Jewels from 3K to 10K followers in less than 100 days Instagram. Here's the science behind the magic.
Our Journey from 3K to 10K Followers within 100 days
Hygiene Check
Flora Fountain has been the digital marketing agency of Vajra Jewels since early 2019. The first thing we did was run a hygiene check on the brand's digital presence. It started with branding.
Jewellery Brand's Logo Redesign
While the brand logo was created while the focus was on B2B sales, it did not matter what story it told as much. However, venturing into B2C sales meant having a brand logo that resonated with the target audience. So we decided to re-design the logo.

Top: The old logo of Vajra Jewels, Bottom: The new logo
Jewellery Brand Positioning & Story
At the same time, we realised that the brand had to have an interesting story to resonate with its audience, primarily women getting married and her family. And secondarily, women overall. So in addition to the focus on real and 100% natural diamonds, we came up with the concept of the Vajra Woman, who buys, chooses jewellery and wears jewellery with confidence and for herself.
Social Media Presence
Another finding was that the brand Vajra Jewels was present only on Facebook, as a profile and spoke in the language of diamond traders focusing on information updates about exhibitions or in terms of technical details. The desire for their beautiful product had to be created.
Since we found that a majority of their target audience was on Instagram and Facebook, we decided to create a Facebook and an Instagram profile, with a bio and logo befitting a luxury brand.
Website & Google My Business (GMB)
We also found they were missing a website and a Google My Business profile, both of which would be useful for their target audience, especially when they were actively seeking their products. Additionally, there was a brand with a similar name in South India, which was benefitting from some of our client's search queries. This made creating a website imperative.
Research
Next step, research about the jewellery brand, their target audience and the overall industry. The usual questions we ask are:
What problems is the brand solving for its target audience – to identify the need for the product
Who is it solving this problem for – to identify the target audience
Where is the brand solving this problem – this can include regions, city tiers, but also the media through which it is engaging with the audience
How is it solving this problem – what are the products & services offered that solve this problem
Why is this solution better than the competition – the USPs of these products and services
And finally identifying the competition, both direct and indirect – so the brand knows where it is positioned and how to stand out, if needed
By studying their existing clientele, we found that the ideal customers were mostly women identifying as 'upper middle class', with high family incomes. For them, owning jewellery was a matter of pride and an essential part of their wardrobe. They were also knowledgeable about jewellery and its styling. They chose Vajra because of design customisation, competitive pricing and trust.
Next, we noticed that brands who are potential competitors of Vajra Jewels, were selling a luxurious dream to the customers through social media. But in the pursuit of sounding luxe, they spoke in a language that alienated their base audience. So our language had to be simpler and more accessible while still being luxury.
Since most of the retail sales at that time came from extended friends and family of the partners, we needed to show actual people, right from their customers to two of the partners, who were women in the same age group as the TG. This would ensure local engagement on social media.
Content Creation
Apart from pictures of actual customers and the partners wearing jewellery, it was imperative to have professional photography and videography done to create aspiration and stand out in the Gujarat market.
Images & Reels
Short-form videos (reels on Instagram) and images are the two most engaged with bits of content on social media, so we focused primarily on these two.
Storytelling
Storytelling through visuals and content is the best way to stand out. For Vajra we created campaigns that resonated with a millennial and GenZ female audience. Starting from the Vajra Woman to the Adhisha campaign. The latter was planned to be shot two ways – in a dreamy pastel sequence and in a darker drama sequence – to cater to both kinds of looks. Moodboards were created to get the vibe just right and to pass on this vision to the photo, video and styling teams. Along with the perfect mood lighting, high-quality edits and high-fashion styling, the pictures and videos came out looking like sparkling poetry in motion and still. The extensive detailing and the art direction provided by the best social media marketing company in Ahmedabad, Flora Fountain, ensured that this campaign stood on social media and in Ahmedabad.
Content
The names for every collection, every campaign had a story to tell that connected with the audience. A story that was also told through the content in the grid and its captions. However, the content had to be simple enough to be understood by all. Adding a call-to-action meant that the audience knew what to do after engaging with this content.
Detailed Closeups
While emotions and storytelling are important for an overall campaign and brand to stand out. At an individual post level details and focus work best. Based on our past experience, we knew that professionally taken pictures showcasing only one product in use aesthetically without any distracting elements and edited well work best for post-level engagement. So our shoot created a mix of content to further campaign and brand-level storytelling and detailed shots that get more traction individually.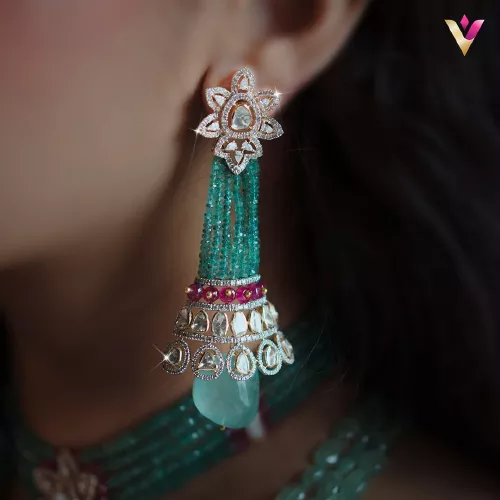 Detailed close ups of Vajra Jewels' jewellery pieces
Grid Aesthetic
On Instagram, brand discovery is usually through an individual post, like the detailed shots above or through a reel gone viral on the Explore feed or because of trending music. For new users who discover the brand like this, first impressions matter most. And this is where the grid comes into play. Aesthetic consistency while creating an aspirational appeal is one of the top customers expectations from a luxury brand. Detailed shots, reels, and different looks in the grid should all flow into this expectation seamlessly. We think we were able to manage this well for Vajra. Why don't you check it out for yourself?
Hashtags
On Instagram, hashtags work like tags or keywords. People use these to search their way through Instagram apart from discovering brands through reel and the Explore page. We used a mix of brand hashtags, campaign hashtags and hashtags with a high number of posts and views that increased discoverability and branding.
Instagram Promotions
Instagram ads reach over 1.2 billion people with the ability to target an audience by age, gender, location and interests.
The intent of the ad itself can be mere "reach" to show the content to more and more people, "engagement" to keep audiences interested or to ensure "profile visits" which can be used to increase the followers and thus the brand's online community. With a mix of all three campaigns, we were able to reach a wider audience, increase engagement and even gain more followers. A regular analysis of the ads and using this feedback in the next promotions meant our boosts kept getting smarter and more tuned to what the audience likes.
View this post on Instagram
The analytics from Instagram also give the brand valuable insights into the minds of their customers. What works? Who does it work for? The more the audience and reach, the more valuable this data for a brand.
Influencer Collaborations
With the right influencer, influencer marketing can do wonders for D2C brands. It helps the brand find a new audience in their target audience and helps them visualise how good the product can look. What the brand should keep in mind is that the influencer's followers should more or less cover the brand's audience, the aesthetics of the influencer should match the brand's design language and finally the collaboration should not market too overtly, but instead create desire and awareness. It should be about the user and not the product only.
To go with the new shoot, we decided to go with Sapna Vyas, a well known fitness and fashion influencer for collaboration. We arranged a store visit where she just tried on a few pieces of jewellery. The reels and images that were posted from this exercise were posted using the "collaborate" feature of Instagram, ensuring it showed on both profiles. This helped both the brand and the influencer to increase their reach, viewership and engagement.
Posting Strategy
The posts were kept frequent but not spammy. We did not stick a set amount of posts, like most traditional social media agencies do, but posted keeping the grid in mind and the user expectation from the brand. If a certain collection performed well, we tried getting more content out and then took a few day's break in between a collection change, to create a sense of #FOMO for the audience. The Instagram algorithm also promotes posts when active and bigger accounts post after a few days of break. We also found that evenings worked better for our engagement, hence most posting happened in the evening.
We began our journey with 3,337 followers. However, with the above strategy in place, within two months, we started witnessing some crazy results gaining an additional 3000 followers. We also analysed which posts performed better organically and boosted them for wider viewership. With all strategies in place, by the end of the five-month period, we had more than 10,000 followers.
Challenges Faced
1.) An extremely competitive market: The retail jewellery industry is highly competitive, with many seasoned players already having a first-movers advantage on Instagram on social media. One of the challenges was creating content that stood out.
2.) Client Confidentiality: The brand was apprehensive about revealing crucial bits of information about the jewellery such as design and craftsmanship. Also in some cases, because they are also a B2B brand, potential design conflicts could occur.
To ensure minimal technical details about the jewellery was revealed, the posts were designed to put the focus on the aesthetic value of the jewellery, and the copies and captions majorly revolved around the story of the brand and to create an overall vibe of elusivity and design excellence.
This generated curiosity and interest convincing the audience to reach out to the brand directly with an interest to know more and buy. Apart from followers, this was also a successful campaign for generating interest and genuine leads via social media.
How We Can Help with Digital & Instagram Marketing
As the best social media marketing company in Ahmedabad, Flora Fountain first understands your brand. Through multiple rounds of research, questionnaires, interviews and even personal visits, a deep understanding of the brand is established. After profiling the brand, studying their audience and industry trends and our team of jewellery advertisement & digital marketing experts develop a personalised digital marketing strategy. Because every brand comes with different goals and challenges that can not be solved with blanket generic strategies and scopes.
Once the strategy is signed off upon, it is set into execution with help of a social media expert cum account manager, a designer, an animator and content writer. Every bit of content is reviewed multiple times before making it to the brand's pages. Experimenting with posting, boosting, stories and feedback from these experiments ensures we get validation for the initial strategy, or change course in case something is not working. User data and insights are the most important bits of this puzzle.
Conclusion
A mix of research, strategy, stand-out content creation, boosting and influencer collaboration. And doing all the above consistently and intelligently. That's how Vajra Jewels' breathtaking designs and our expertise as the best social media marketing company in Ahmedabad together led the brand to a milestone of 10K followers.
If you are interested in multiplying your followers with similarly personalised intelligent Instagram marketing strategies that work with the best jewellery advertisement & marketing company in Ahmedabad, just drop us an email at [email protected] or call 9558079502 and let's start today!
Read more:  Here's why your digital marketing needs influencers in India