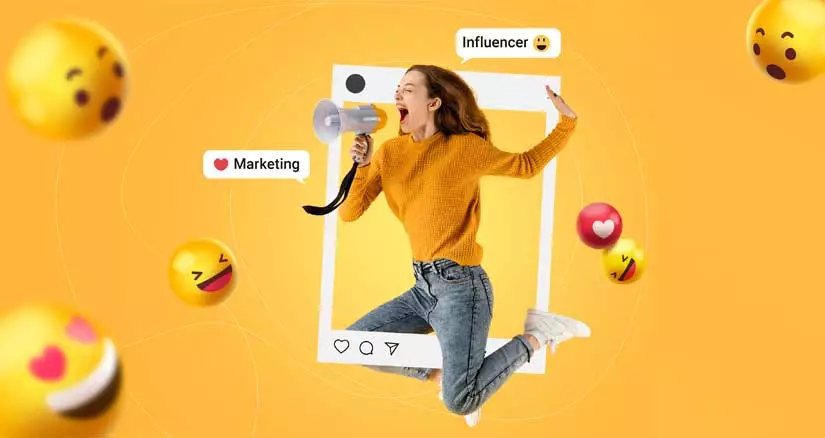 How often does one check out their favourite fashion influencer's profile? If they're like most people, they're always on the lookout for the latest products and trends they showcase. And they're not alone. In fact, stats back it up – a whopping 72% of Gen Z and millennials are glued to influencers on social media.
But ever wondered how the brands that the influencer gushes about, actually benefit? How does one find and work with the right influencers for their brand? And how do they measure the impact of their campaigns? That's where the experts like Flora Fountain, a digital marketing company in Ahmedabad, can help a brand.
Well, stick around, because this blog is about to lift the curtain on this whole influencer collaboration thing!
Table of content
Understanding influencer collaborations
Influencer collaboration is a powerful digital marketing strategy that leverages the trust, reach and relevance of influencers to promote brands, products or services. Influencers are individuals who have a large and loyal following on social media platforms, such as Instagram, YouTube and TikTok. They can be celebrities, experts, activists, gamers, comedians or anyone who can sway their audience's opinions and behaviours.
By collaborating with influencers, brands can create different types of video content for digital marketing that showcase their value proposition, features, benefits or stories authentically and engagingly. Video content is one of the most effective forms of digital marketing, as it can capture attention, evoke emotions and drive action. According to a report by Wyzowl, 86% of video marketers say video has increased traffic to their websites.
Flora Fountain, digital marketing agency in Ahmedabad, has been a leader in influencer marketing and has helped plan and execute influencer campaigns for various local and national brands. Before we dive into some real-world examples of successful influencer collaborations, let's understand what they are and how they work.
How influencers help brands expand
Influencers are powerful agents of change, especially among Gen Z, who trust their recommendations more than traditional ads. According to a report by HubSpot, 33% of Gen Z have bought a product based on an influencer's recommendation in the past three months. Here's how influencer collaboration can benefit brands:
Authentic connections:
Influencers share their honest opinions and experiences with their followers, who share similar values and interests. By aligning your brand with the right influencers, you can create authentic connections with your target audience and increase loyalty and engagement.
Trust-building authority:
Consumers crave authenticity and transparency in the digital landscape. Influencers act as relatable and credible sources of information, who can influence their followers' opinions and behaviours. By leveraging their authority and trust, you can boost your brand awareness and reputation.
Amplified social proof:
Influencers can showcase your products or services in real-life scenarios, demonstrating their benefits. This creates social proof for your brand, as consumers are more likely to buy something that has been endorsed by someone they admire and respect.
To make the most of your influencer collaborations, you need to use the right platforms and tools to reach your audience. For example, various features of Instagram to make any business stand out, such as reels, stories, live etc can help brands reach the audience it intends to target digitally.
Influencer Marketing by Digital Marketing Agency Flora Fountain
We have been a leading digital marketing agency in Ahmedabad with years of experience collaborating with numerous FMCG brands. One of the strategies we have successfully employed is influencer collaborations. We know how to capture and retain users' attention by partnering with influencers who can amplify the brand message and reach.
Here's what we did…
Expansion through micro-influencers for Kamaii
Kamaii is a homemade food ordering and delivery platform that delivers homecooked food in Ahmedabad and Vadodara on pre-orders. Guided by us as their digital marketing company in Ahmedabad, their goal was to boost brand awareness and credibility. We knew that hyper-local influencer partnerships were the way to go.
In Ahmedabad, Kamaii collaborated with a food blogger named Ahmedabadi Mehul who has 269K followers on Instagram. In Vadodara, they collaborated with Food Culture Vadodara another influencer with a massive following of locals in Vadodara city. These influencers shared their experiences with Kamaii's mouthwatering offerings in their reels, speaking directly to their local audience in their preferred language.
The results were remarkable. One of the reels garnered about 2.4 Million views sparking engaging conversations and attracting the attention of food enthusiasts in both cities. Other reels had over 400K views each.
View this post on Instagram
Speaking the local tongue can take a brand to places, literally!Image alt text: A reel of a person eating food
But why did we choose these influencers for Kamaii? Because both the influencers knew the heart and soul of their cities. They are not just popular but are looked up to by their followers, to find trusted places to order or dine in the city. They connect with their audience in a way that's genuine and authentic, which is quite visible in the comment sections of their posts.
These influencers don't just speak the local lingo; they add their unique flair to it. They create content that resonates with locals, making them the go-to source for food recommendations. When it comes to ordering food in their city, these influencers are the ones people trust.
Targeting two demographics with food influencers for Tantissimo
Tantissimo an Italian restaurant in Ahmedabad, wanted to create a buzz around their brand and reach out to their target audience. They teamed up with Flora Fountain, a social media marketing agency in Ahmedabad, to run a series of influencer activities in January and February 2023.
The first activity was to invite Yashvi Mehta, a radio jockey and social media influencer with over 40K followers on Instagram, to Tantissimo. She posted a reel showcasing the authentic Italian dining experience at the restaurant. The reel got more than 37K views, likes and comments from her followers.
View this post on Instagram
Reels by lifestyle influencers can bring in a variety of people on the brand's page
The second activity was to organise a gelato tasting session for Tantissimo's gelateria "Gelatoss". Six urban food influencers participated in a blindfolded tasting session and a Q&A session with the founder of Tantissimo. They posted reels on their Instagram accounts, tagging Tantissimo and Gelatoss. The reels got over 10K people engaging with the brand's Instagram page.
The influencer marketing campaign was a huge success for Tantissimo, as it helped them become a leading brand for Italian food and gelato in Ahmedabad. The target groups were Gen Z's who loved going out with their friends and partners and older millennials who were open and willing to try non-Indian cuisine. The campaign increased the followers, the engagement ratio and the footfall of the restaurant significantly.
In conclusion
Now we know that in social media marketing earlier hashtags play an important role and now it is influencer collaborations. They help you reach your target audience, increase your brand awareness and boost your engagement. No matter what type of influencers or partnerships you choose, you need a solid strategy to make the most of them. If you want to know how to do that, say "Hola" to Flora Fountain, your friendly digital marketing company in Ahmedabad, at [email protected]. We are here to help you with your questions and goals.
Frequently Asked Questions
You should ask an influencer for collaboration in a way that shows your interest in their content, your value proposition for them and your expectations for the partnership. Ask questions like "How do you feel about our brand and products?", "What are your rates and terms for sponsored posts, stories, reels, or other formats?" and "How do you measure and report the results of your campaigns?" These questions will also show how serious you are about the outcome of the partnership.
The best way to connect with influencers is to approach them on the platform they are most active on. Either Direct Messages on Instagram, email in scenarios where they have one or call up the agency that is representing them. You can also connect with the best digital marketing agency in Ahmedabad, Flora Fountain to guide you with the best influencers in your field.
The most common type of influencer is the micro-influencer, who has between 10k and 100k followers on social media. Micro-influencers are popular because they have high engagement rates, loyal fan bases, niche expertise and affordable commercials. They are also more likely to collaborate with brands that match their values and interests. Micro-influencers can help brands increase their awareness, trust and conversions among their target audiences.