Marketing plays an important role in driving sales for a business, whether they are offline or online. But the strategies that drive traffic to ecommerce platforms and further convert them into sales are completely different from traditional practices.
Here's a look into some interesting and proven ecommerce strategies that can help brands sell more through their ecommerce websites. You're welcome!
Cross selling
One of the most effective ways to increase the cart value of the customer is to cross sell. Cross selling means selling a different product to the customer, either as an alternative or an addition to the product that's already added to the cart. Ecommerce websites like Myntra and Amazon usually have a section called "Frequently Bought Together" where they show combos of products that complement each other.
Amazon.in cross selling multiple shirts on their product pageFor instance, if a customer is looking to purchase a mobile phone online and as they scroll down, it will show a combined price window with a pair of earphones and power bank. It lures the customers into thinking he/she is getting a great deal in purchasing all of three products together.
Build up a sense of urgency
Another great ecommerce marketing strategy to encourage customers to purchase a product is by creating a sense of urgency in their minds, of missing out on buying the said product if they don't act now or. The idea is to offer the customer a short window to make the decision and have a feeling of getting a great deal out of it.
There are various ways to do it. One of the most commonly practiced methods is to entice them by showing the quickly running out stock levels. When a customer sees that the product they just liked might go out of stock soon, chances are, he/she will end up buying it.
Rayethnic.com creating a sense of urgency by highlighting high demand of their productsAnother way to create a sense of urgency is to offer a limited period discount or benefit. For instance, Amazon displays a pop-up under many of its products which offers either an attractive price deduction or a free overnight shipping if the customer places an order within X number of hours.
Blogs
Now, this is a long-term strategy which requires quality content and consistency over a period of time, but the benefits are many. Blogging is an effective and proven strategy used by major ecommerce marketing companies in India.
But, how do blogs help?
Blogs are among the best ways to boost an ecommerce website's organic SEO reach. Blogs give businesses a channel to engage with their regular customers through well written blogs that offer value to them. Just like how Ray Ethnic does with their blogs. They offer fashion tips and product suggestions and promote ethnic fashion through their well written articles.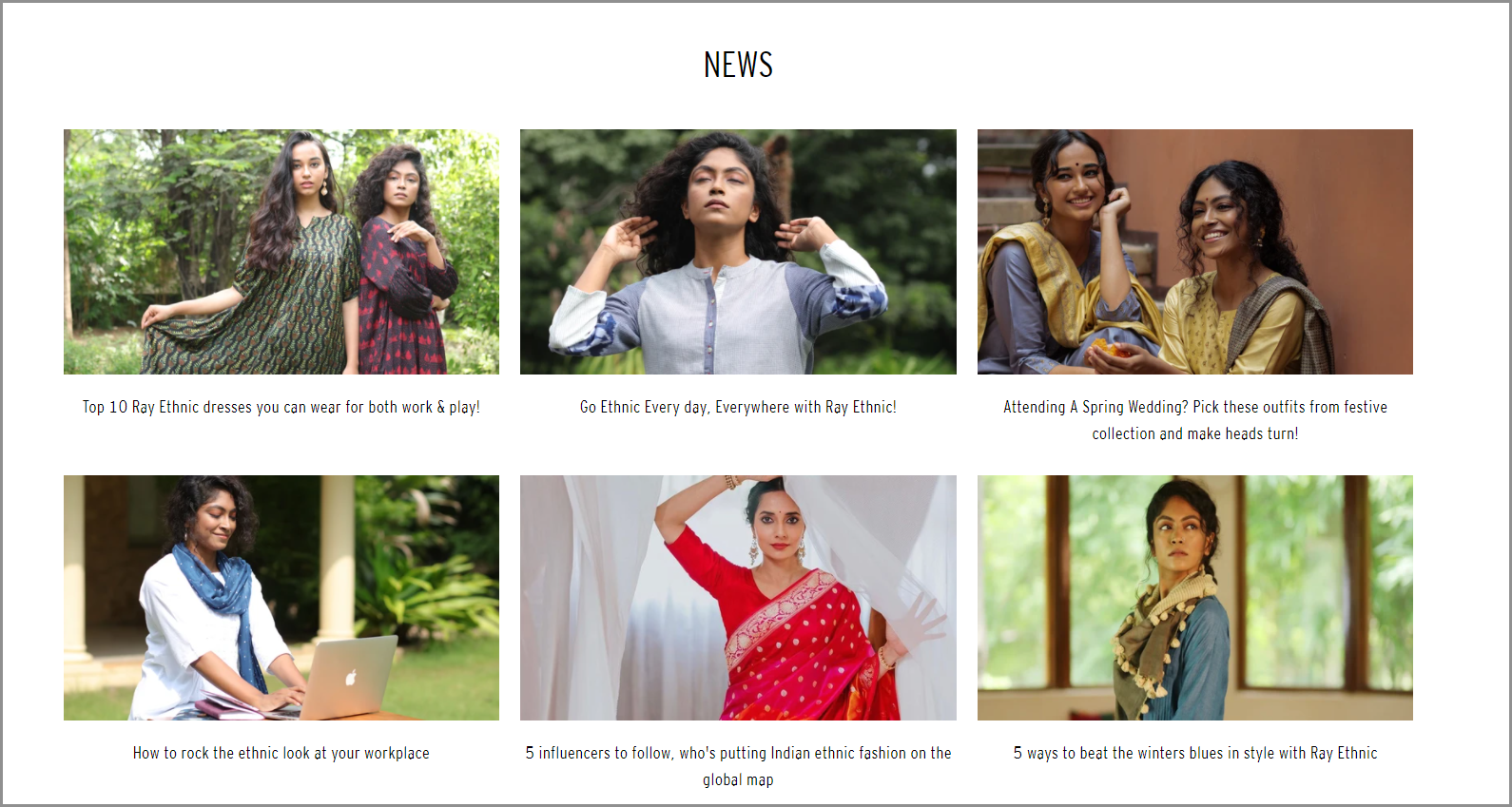 A variety of blogs on rayethnic.com that talks about fashion tips using their productsBut these aren't just blogs, they're smartly written content pieces peppered with relevant keywords that help their website rank higher on the search engine page. This means their visibility increases further when people search for ethnic wear.
Additionally, blogs can be interlinked to relevant products from the inventory, enticing the reader to click on the product link and maybe purchase it too. For instance, a blog that talks about perfumes to be worn during winters, can have one or many products hyperlinked every time the brand or the fragrance is mentioned in the write up.
Offers/Discounts
A recent survey by Brizfeel showed that price is a top factor that influences a buyer to purchase something online. Giving the customer the feeling of having grabbed a great deal or saving a good amount of money on a purchase, is one of the best ways to push sales on ecommerce. And everyone loves a sale or a great discount.
Brizfeel research showcasing various aspects that influence shoppers to purchase moreBy regularly having offers like "The End of Season Sale" for lifestyle brands, or a "Buy One Get One Free" offer for FMCG products and food items, the quantitative sales among regular shoppers see a sharp rise. Further, when these regular customers talk to their friends and family about the great discount they availed on the sale, it attracts new visitors to the site, and chances of getting new sales go up.
Reviews
A common trait among all online shoppers is to check what other shoppers like them are saying about their experience with the business and their products. And good reviews always push more sales. The Brizfeel survey above further states that 94% of customers won't purchase from an online store that has bad reviews.
Encourage positive reviews from customers, to write about their experience with the brand, either on the review columns in the website itself or on platforms like Google Business, Facebook pages, etc. This can be done through a pop up right after they checkout, which prompts the shopper to post a review. They can either be in the form of ratings, e.g. how many stars out of 5 or a small text box that posts the review publically immediately.
These are proven strategies that have increased sales, improved visibility and strengthened the brand positioning of many ecommerce businesses in India and internationally. Implementing them in your ecommerce sales strategy will definitely bear fruit.
Loved what you just saw? Let's get it started on your ecommerce website too. Get in touch with Flora Fountain, a full-service digital agency offering Ahmedabad's best ecommerce website design and development services to various national and international brands across the spectrum.