Hiring the best digital marketing agency is not enough!
After all, working with a digital agency is like riding a tandem bicycle! You may team up with the top digital marketing experts but without proper communication and coordinated efforts, building your brand presence may seem a distant dream.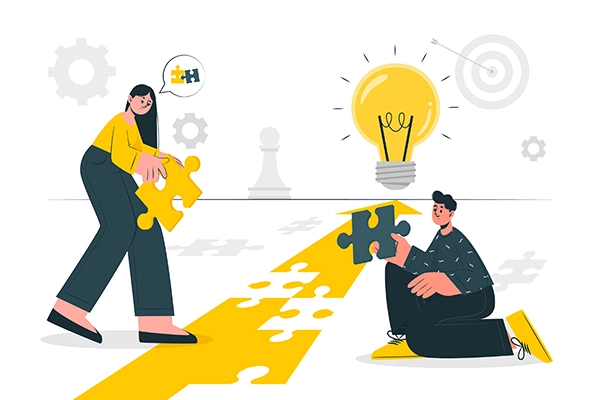 Path to effective collaboration with a digital agency
Many brands and renowned businesses realise that collaboration with a digital marketing agency isn't always straightforward. Especially when both parties are stuck amidst megabytes of content, creatives, brainstorming, meetings and multifold communications happening between them.
Immensely overwhelming, isn't it?
Well, it can be simplified. The most brilliant minds at the best digital marketing agency in Ahmedabad have compiled this guide on how businesses can establish a robust partnership and collaborate effectively with their marketing agency.
Read ahead to know more!
What can brands do to collaborate effectively with a digital marketing agency?
The daunting question has kept many business owners wide awake, after all, a small miss from their team can also cost heavily to the brand.
We have compiled a list of things you can do to improve your compatibility with a digital marketing company. They are as follows:
Set your marketing goals
Communicate your expectations
Identify team responsibilities
Establish a clear communication process
Provide access to relevant information
Analyse results and refine strategies as needed
Set marketing goals
Before you dip into the pool of digital marketing agencies, take some time and define what it is that you want to achieve. Because the first step towards an effective collaboration comes with communicating your defined goals and objectives to the marketing agency.
Consider unravelling questions like:
what goals you have in mind,
how will you measure the performance of the campaign,
how will you record the learnings from the campaign.
Making sure that both parties are on the same page helps ensure that all the efforts are directed through a tunnel leading towards the same end goals and prevents any misunderstandings.
Identify your goals
Communicate your expectations
Openly communicate your expected outcomes.
It's important to set clear timelines, milestones and expectations while hiring an agency for digital marketing in Ahmedabad or Amsterdam. This will allow everyone to understand what's expected and by when so that teams are held accountable and deliverables are met on time.
Projects should also have a scope or agreement outlining who is responsible for delivering what, as well as any overhead expenses.
The expectations once defined, like the north star, help the agency navigate and sometimes even alter strategies mid-course to deliver the results promised.
Identify team responsibilities
Your second step is to identify who from your team will be responsible for which tasks and make sure everyone understands their roles before starting the project.
As the top digital marketing expert in Ahmedabad, it is clear that having someone from the brand as the point of contact helps keep communication organised and efficient, while also ensuring that all responsibilities are divided appropriately.
This also means deciding who will be the point of contact for the agency to reach out to for project details, images and any kind of resource. Who is responsible for the creative approval, who is next in line in charge if the end authority isn't present, etc.
Establish a clear communication process
Communication is crucial in any partnership, and the same applies to collaborating with a digital marketing agency.
It is best to establish clear communication channels with the agency to ensure that all parties understand their roles and responsibilities. You should define the frequency and the modes of communication to avoid misunderstandings.
Identify common channels of communication and set the process for the same.
The best way to ensure success is to create open channels of communication and to check in on progress throughout the project. Both parties should establish how often check-ins will bep held, who needs to attend, what topics need to be addressed, and when the next meeting will be scheduled.
With consistent communication the brand can be equally involved in the project, ensure that the teams are on track and help avoid miscommunication or delays. It also provides a space where both teams can discuss any challenges that arise quickly and openly so they can work together towards success.
Provide access to relevant information
Take a look around across the digital marketing agencies in Ahmedabad, and you will realise the pain point for most of them is getting accurate and complete details from brands. This results in unwanted delays, poor images and a less than desirable brand image.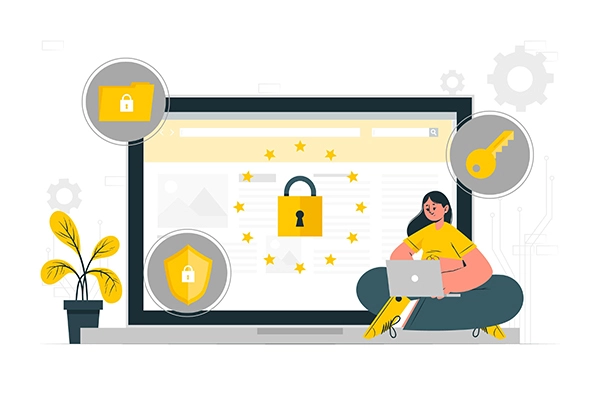 Equip your digital marketing agency with the required account access and brand information.
Your digital agency needs to understand your business to provide customised strategies and solutions. Providing access to relevant information such as your business model, target audience and marketing strategies becomes critical for creating digital strategy. This will enable the agency to provide services that align with your business goals and avoid any mishaps from your side.
Along with this, it is vital that your team provides access to social media accounts so that the posting, boosting work does not get hampered.
Analyse results and refine strategies as needed
Once you are clear with all the mentioned points, analysing the campaign at different stages is essential. Make sure to provide constructive feedback with the right details so that the agency can adjust its strategies.
For instance, share what exactly did not work out for you in the creative, or why you liked a creative.
Providing all these details will help the agency to understand your brand better and ensure future success while keeping up with digital trends and staying ahead of the competition.
Stay in touch with the progress with regular analysis
In Conclusion
Collaborating with a digital agency can be a game-changer for your business. However, to achieve the desired results, you need to establish a robust and respectful partnership with the agency.
Defining your goals, choosing the right agency, establishing transparent communication, setting realistic expectations, providing medium access and relevant information, and finally actively monitoring progress are a few of the key steps towards effective collaboration.
By following these steps, you can achieve your digital marketing goals and take your business to the next level. So now that you are prepared, for your part, we are here to provide you with the best digital marketing service.
Drop a hello at [email protected] today!