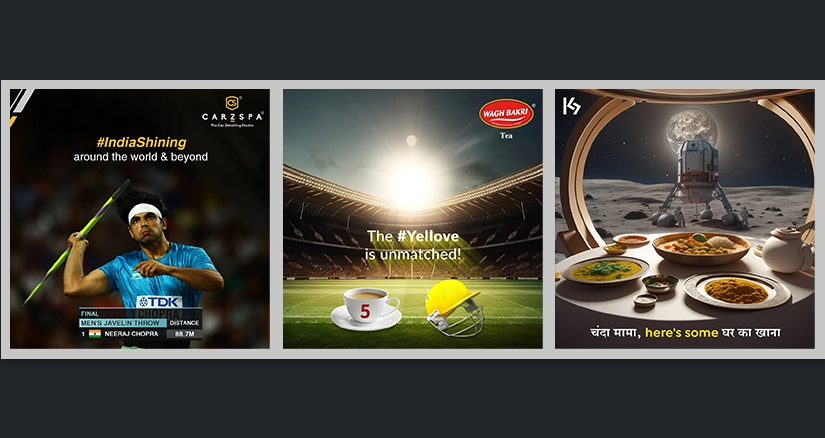 The year 2023 has been full of internet moments that went viral. From the IPL 2023 showdown between Chennai Super Kings and Gujarat Titans, the blockbuster clash of Barbie and Oppenheimer, to Chandrayaan 3's triumphant landing – these events captured the attention of millions of netizens. As we sit back and reflect on these unforgettable moments from this year, one thing becomes abundantly clear: in this age of instant connection and viral phenomena, brands can't afford to remain in the shadows.
But have you ever wondered why brands are not just spectators in the cinematic battle of movies like Barbie and Oppenheimer? So, fasten your seatbelts as we are going to uncover the secrets behind the scenes – where marketing magic meets viral moments. Let's dive in.
Table of content
What is Moment Marketing
Ask any branding agency in Ahmedabad or anywhere in India and they will tell you that moment marketing is a crucial pillar of modern branding. The term, 'Moment Marketing' itself defines the concept – marketing in the now, seizing the current opportunity of current trends with concise, aligned and witty content. It's the art of delivering timely content that resonates.
Remember the classic Amul ads, where their mascot – the Amul girl – would have something to say about the trending topics of the day? Yep, that's moment marketing! Even Cadbury got in on the game with their cricket-themed ad celebrating women's entry into the field.
Moment marketing by Cadbury
So, why has moment marketing been around for ages? Well, the reasons are quite impressive!
Reasons to do Moment Marketing
As a digital marketing company in Ahmedabad, we have made a list of 3 BIG reasons why moment marketing is a must!
Cost-effective:
Money does talk, but it doesn't have to shout. Moment marketing doesn't break the bank, it's all about creativity and timing. You spend less and get more engagement, brand visibility and conversions than you would with traditional marketing methods.
Connection, Conversation and Conversion:
Every brand aims for these three C's. Look at any content for your brand on social media and think about the objective of the post. It would be either of these three. Imagine your brand's post pops up while your audience is already immersed in the latest news– bam! That's a connection established, a conversation started and a higher chance of conversion, all in one witty post.
Examples of Moment Marketing
Amul: Celebrating Neeraj Chopra's Win
It's gold for India! Neeraj Chopra's historic gold medal win in the javelin throw at the World Athletics Championship, made the whole of India erupt in joy. Seizing the opportunity, Amul, the legendary milk brand, showcased their iconic Amul girl. In a clever cartoon, they connected Neeraj Chopra's gold medal with their FSSAI "gold standardisation" brilliantly highlighting their quality.
View this post on Instagram
Grab the event, make a moment
Blinkit: Mastering Dual Event Coverage in Single Post
Hold onto your helmets, Chandrayaan 3 has just landed on the moon! With this news, India was floating on cloud 9 But wait, there's more! On the very next day, we had a world chess championship and our very own Praggnanandhaa was in the game. Back-to-back events, right? And guess who pulled off the coolest two-in-one deal? Blinkit.
Blinkit merged both events in a single tweet. In the copy, they are about cheering for India on the moon one day and then shifting the celebration to India's chess champ the next. Their design spoke volumes, featuring a chess piece with a regal crown, symbolising the "King of Chess," and a white tikka representing Praggnanandhaa who wears a white tikka on his forehead. Who needs a thousand words when one picture says it all?
Zomato: A Clever Take on Barbenheimer
Zomato is known for its witty moment marketing and this time they blended in the reach of hashtags in social media marketing. We all know the hashtag battle between Barbie and Oppenheimer, #TeamBarbie or #TeamOppenheimer – where'd you stand? Knowing social media thrives on hashtags Zomato used the clever hashtag trend of #Barbenheimer and crafted a meme carousel. They split the screen, Barbie on one side, Oppenheimer on the other, comparing some trends with a caption you can't miss!
View this post on Instagram
Meme marketing plus moment marketing
Moment Marketing by Flora Fountain
Flora Fountain is a therapist for brands and is an experienced digital marketing agency in Ahmedabad. Let's look at some of our moment marketing work that'll have you saying, "Why didn't I think of that?
IPL for 'Kamaii'
Remember, the IPL finals between Thala and the Titans that had the entire nation abuzz? Well, even Flora Fountain couldn't help but catch the excitement, inspiring a clever marketing move for Kamaii, a scrumptious homemade food delivery app. With its brand name, they crafted a brilliant narrative for the winning Chennai Super Kings.
Chandrayaan for 'Wagh Bakri'
Landing on Chandrayaan 3 was an epic moment for the whole of India, every brand was catching up on the event to make the best creative. But Flora being a creative digital marketing agency in Ahmedabad crafted a simple yet genius post for Wagh Bakri Tea. Just picture a teapot-shaped rover on the moon's surface, with a copy: Aaj shaam ki chai chaand par which loosely translates to (Today's evening tea on the moon) Result? Crazy likes over 2500, that's the power of moment marketing!
View this post on Instagram
Simplicity and relatability is crucial in moment marketing
Chandrayaan for 'Vajra'
Ye teri chaand baaliyan got real with Flora Fountain's creativity. The creative ninjas at the creative digital marketing company in Ahmedabad transformed the song into an enchanting moment marketing for Vajra, a jewellery brand, Flora Fountain designed rover-shaped earrings with a moon's image, skillfully blending brand personality and moment marketing.
Neeraj Chopra's win for 'Vimal Oil'
Okay, let's shift our gaze from the moon to the gold, where Neeraj Chopra got his second gold medal in the javelin throw at the World Athletics Championship, earning a standing from all, including brands. Flora Fountain captured the moment to make a stellar story for Vimal Oils, known for its Pure Gold oil. They cleverly blend the gold medal to win the brand's element of Pure Gold oil.
Tips By a Digital Marketing Agency for Moment Marketing
Keep up with the latest trends and events: Let's say you are at a party and everyone is talking about the latest news you are unaware of, You will feel left out right? It's true for your brand too. Your brand shouldn't miss out on the trends. Stay clued into what's buzzing and sizzling. You wouldn't want to miss a golden opportunity to make your brand shine, right? Plus, being in the know helps you convey your vision when working with a digital strategy agency.
Be ready: Preparedness is the key! When it's about moment marketing, having your content, ideas and designs ready is vital. For a digital marketing agency in Ahmedabad juggling multiple brands, preparation is a must. No last-minute rushes or frantic searches for inspiration, just fine-tuned readiness to hit the post button on the cue!
Stay relevant to the brand's personality: Not every trend fits your brand's vibe. An experienced digital marketing company in Ahmedabad will ensure that their choices align with your brand's personality.  Going off-brand with moment marketing is like wearing mismatched socks – it might get laughs, but it's not the look you're going for!
Some Concluding Thoughts
In the world of digital marketing, seizing the right moment is an art. As a brand's strategic partners, we understand that successful moment marketing goes beyond trends – it's about transforming fleeting moments into unforgettable connections. So, if you're looking for a social media marketing agency in Ahmedabad to amplify your brand's presence then you can reach out to us at [email protected]. Let's collaborate to make unforgettable moment marketing campaigns.
Frequently Asked Questions
Moment marketing can be adapted to various industries, but its effectiveness depends on your target audience, brand values and the nature of your business. Some brands, especially those with broad appeal or a robust online presence, can benefit more from moment marketing.
Monitoring trends on social media, news platforms and industry-specific sources is crucial. Look for events or topics that align with your brand's values and resonate with your audience. Consider cultural events and emerging trends.
Social media platforms like Twitter, Instagram and TikTok are often used for real-time engagement. However, the choice of platforms depends on your target audience's preferences. Be where your audience is most active.
Metrics like engagement rate, reach, shares and sentiment analysis can help gauge success. Track website traffic, conversions and sales during and after-moment marketing campaigns to assess their impact on your bottom line.