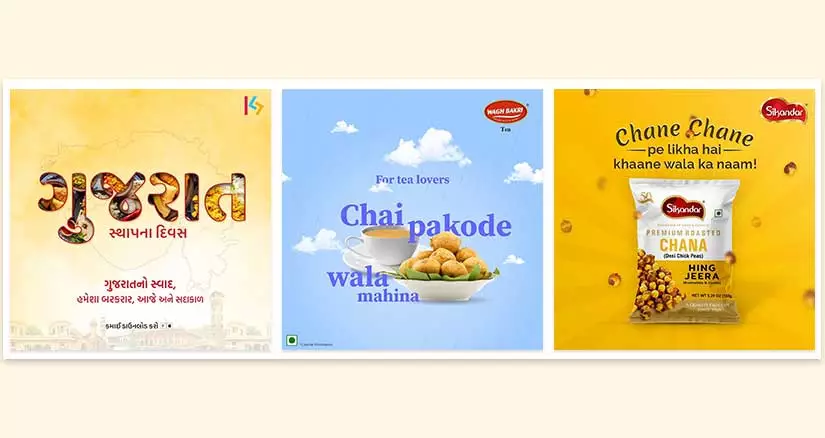 Relatability with the audience is key to unlocking brand success. Despite being part of the global internet era, local culture holds immense significance in the Indian market. We find solace and connection within our cultural communities and traditions. This is true for digital marketing and branding as well!
Here, we break down how a city, state, region or country's local culture can have a strong influence on a brand's digital marketing plan and how some of most brand campaigns have skillfully integrated local culture into their digital marketing strategies, forging a deeper bond with their online audience.
Table of content
Understanding Culture
According to Dutch social psychologist Geert Hofstede, culture is the collective programming of the mind that sets one group apart from another. In the context of marketing, understanding culture becomes paramount as it shapes consumers' preferences, beliefs and behaviours.
Local culture encompasses various elements, including language, customs, traditions, values and social norms, all of which influence how individuals interact with brands and make purchasing decisions. When marketers create region-specific digital marketing strategies for their brands, it recognises the significance of culture and helps businesses to tailor their approaches to specific target audiences in different regions.
The Importance of Local Culture in Marketing
Understanding the influence of local culture enables marketers to create content and campaigns that resonate deeply with consumers, fostering a sense of familiarity, relatability and trust. By embracing local culture, brands can tap into the emotional and psychological aspects of consumers' identities, effectively positioning themselves as an integral part of their cultural context.
For instance, a social media agency in Ahmedabad has to understand the local culture, consumer behaviour and market trends to create impactful digital marketing strategies that connect with the target audience on a cultural level. Through cultural sensitivity and localisation, they can guide businesses in successfully navigating diverse markets and maximising their digital marketing efforts.
Here is why it is important to keep local and regional culture in mind, while devising marketing strategies, digital or otherwise:
1. Understanding Consumer Behaviour
By integrating elements such as language, ideas, values and traditions, marketers can make their communication methods more appealing to the target audience.
2. Overcoming Communication Barriers
Brands can effectively reach their target audience by incorporating local phrases, dialects and references in their marketing communication. This resolves communication issues and shows that the brand understands and respects regional preferences and customs.
3. Building Authenticity and Trust
When the target audience sees that a brand acknowledges and respects its local culture, it fosters genuine interest in the brand. This creates a sense of familiarity and authenticity, helping to establish a trustworthy relationship with customers.
4. Differentiating from Competitors
Brands that take the time to understand and embrace local traditions can gain a competitive edge over those that adopt a one-size-fits-all approach. By making direct appeals to the local population, a brand can differentiate itself as more approachable and appealing.
Now that we understand the importance of local culture in digital marketing strategies, let's look at some brilliant examples of brands that have successfully incorporated local culture into their brand.
Influence of Local Culture on Digital Marketing Strategies
Digital marketing involves using online platforms, such as social media, email, texts, web-based ads and online communities, to reach the target audience.
Various types of digital marketing strategies include content marketing, video marketing, influencer marketing, email marketing, SEO marketing, behavioural marketing, personalised marketing and direct marketing.
Here are a few examples of brands that have successfully embraced local culture in their digital marketing strategies.
Zomato's Hyper-localised Deepfake Ad
Zomato, the leading food delivery platform, took a groundbreaking leap in its digital marketing strategies with its hyper-localised deepfake ad campaign. Featuring the renowned actor Hrithik Roshan, the ad captured the attention of YouTube viewers worldwide.
What sets this ad apart is its remarkable personalisation, wherein Hrithik Roshan expresses his cravings for specific dishes from popular restaurants in various cities. The ad dynamically changes based on the viewer's location, using their phone's GPS data to customise the content to match their city and locality. For instance, if a viewer is watching the ad in Ahmedabad, Gujarat, Hrithik Roshan will express his yearning for the famous Gujarati delicacy, Khaman, from the local khaman house, Das Khaman.
The deep fake Zomato ad changes as per the location of the viewer and GPS
This approach in digital marketing showcases the immense potential of combining AI and deep fake technology to create engaging and location-specific advertising content. Zomato's hyper-localised ad set a new standard for personalised marketing, demonstrating how technology can elevate brand communication to unprecedented levels of relevance and engagement.
Snicker's Localised Advertisement for its Brand Message
Snickers, a renowned chocolate bar brand, has successfully blended culture into its advertisements, shaping a unique brand message that resonates with diverse audiences. The core idea behind Snickers' brand message revolves around the concept that individuals undergo a transformation when hungry, departing from societal norms.
Snickers advertisements Initially centred on gender dynamics, where a male turns into a female diva when hungry. However, as cultural norms evolved over time, Snickers diversified its approach. By utilising different characters and settings, the brand humorously conveyed the impact of hunger on a broader range of behaviours.
In the United Kingdom, Snickers adopted a localised strategy to establish a global presence. One notable advertisement featured Mr Bean, an iconic British character, delivering the tagline "Get some nuts." The clever use of local lingo and words familiar to the UK audience highlighted Snickers' cultural blend.
Snicker advertisement featuring Mr.Bean
The brilliance of Snickers' digital marketing strategy lies in its versatility. The brand repeatedly employed the same joke with various characters and settings, resonating with different cultural contexts. In India, for instance, Snickers enlisted prominent celebrities like Sonam Kapoor, Mahendra Singh Dhoni and Rekha, aligning with the Indian audience's preferences.
Snicker advertisement featuring Rekha
The tagline "Hungry? Grab a Snickers" conveyed the message to Indian viewers. Snickers also extended its cultural integration by incorporating localised messages on its packaging. For example, words like "gaando" and "gheli" were used for Gujarat, while Marathi terms like "vedya" were employed for Maharashtra. These region-specific messages captured the distinct moods associated with hunger in different cultural settings.
In Australia, the brand truly went locally digital with their Hungrithm campaign. A combined digital and in-store campaign, the price of a Snickers bar was slashed across stores in Australia everytime the Internet got angrier. Too gauge anger online, Twitter analysed thousands of social media posts. And everytime the online world got angrier, prices for Snickers dropped in stores in Australia. Aligning with the larger message of the brand, "You're not you when you're hungry."
Snickers' cultural blending strategy exemplifies the effective use of localised approaches while keeping the central brand message intact.
Celebrating Local Festivals and Local Stars
Since brands are increasingly looking for ways to localise their marketing strategies to connect with consumers on a more personal level. One effective way to do this is to partner with local celebrities who can help to promote the brand and its products to a wider audience.
A great example of this is Junglee Rummy, an online rummy gaming platform that partnered with well-known Gujarati film actors Malhar Thakar and Aarohi Patel to promote the brand during the Navratri festivities. The campaign was a huge success, with Thakar and Patel using their social media platforms to reach out to their millions of followers and encourage them to join in the online rummy frenzy.
Gujarati movie stars Aarohi Patel and Malhar Thakkar promoting Junglee Rummy during Navratri
The campaign was particularly effective because it was tailored to the local culture. The language used was "Amdavadi Gujarati" filled with slang and the campaign was posted on Facebook, where the brand's target age group is mostly active. As a result, the campaign was able to connect with consumers on a deeper level and generate a lot of excitement for the brand.
Bridging Culture and Digital Marketing at Flora Fountain
Ahmedabad, a city in Gujarat, never fails to mesmerise with its culture, food and warm-hearted people, something we heartily believe, study and try to use across digital marketing strategies as one of the best digital marketing agency in Ahmedabad.
Let's take a stroll through some of our local-flavoured work:
Kamaii: Homemade Food with Local Flavours Goes Local on Digital
Meet the homemade food business, Kamaii in Ahmedabad. We all love food…but the magic doubles when food is made relatable.
Kamaii's audience, primarily aged between 25 to 40, consists of people residing in Ahmedabad and Vadodara, predominantly speaking in Gujarati, followed by Hindi and some English. For creating relatable social media content, the digital marketing strategy meant tapping into local culture in several different ways, including the use of local language in memes and product offerings, understanding local problems like lack of organisation and accessibility in obtaining homemade food for those who can not cook at home, providing local solutions and highlighting those enlisted on the app as riders and food partners as local heroes.
Using local language, usually Gujarati or Hindi or extremely simple English, across all social media posts and even newspaper and radio ads, builds authenticity and creates a connection. This is especially true when addressing problems and giving solutions. And can be implemented across digital marketing strategies beyond social media posts. For example, for influencer promotions too the brand collaborated with only those local Gujarati food influencers who speak in a street-style authentic Gujarati dialect.
Speak the language of your target audience
Another example is its campaign called "De thaali", which creatively addressed various food-related dilemmas and presented a single solution- Dethaali (Give a plate), the phrase playfully connects with the local phrase "detaali" (give a clap).
Using cultural phrases to connect with the audience
Furthermore, we introduced "Naath ni thali", a traditional Gujarati thali reserved for special occasions like weddings and sacred thread ceremonies (janoi). Unlike the typical Gujarati Thali served in restaurants, this special thali features exclusive items with distinct flavours, perfectly aligning with local culture and taste.
Imbibing traditions in digital marketing strategies
By seamlessly weaving cultural elements into its digital marketing strategy, we helped the brand overcome communication barriers, establish trust and set itself apart from its other food delivery competitor apps like Swiggy and Zomato who predominantly use more urban English in their marketing communication.
Sikandar: Speaking to Snack Loving Gujaratis Online
Sikandar is a pan-India food brand serving delicious packaged snacks. Gujarat being one of its main target audiences, we incorporated the cultural essence of Gujarat into the brand's digital marketing.
See the reel here which showcases the versatile use of Peanuts in various delicacies across different cities of Gujarat. To amplify the local touch, we wrote the caption in Gujarati to engage with the audience in their native language.
And the results are quite visible in the comments, where the audience could relate to the post as the content speaks their language, preferences and tastes.
CarzSpa: Rev up with Locali City-specific Design and Communication
With over 85+ studios spanning across India and abroad, CarzSpa is a renowned car detailing studio. While creating their digital strategy we strategically approached cultural integration across its franchisees. In a diverse country like India, where languages and cultures differ significantly, we ensured effective digital communication was tailored to suit each franchisee's specific linguistic and cultural nuances.
CarzSpa's Rajkot franchise, for instance, seamlessly incorporates the local culture of Gujarat into its creative designs and copywriting. By doing so, the brand strikes a chord with its local audience, reinforcing authenticity and a sense of belonging.
In another example, we embraced local elements and cheeky captions to engage and captivate audiences in Virar through the creative integration of a local train in design and copy.
Shilpa Lifestyle: Creating Local Intrigue by Elevating the Local
For Shilpa Lifestyle, a premium diamond and gold jeweller based out of Rajkot, we created a digital and in-store collaborative concept called The Shilpa Bride. Brides are selected from Rajkot and nearby towns on the basis of a contest and submissions on social media and the selected brides, accompanied by her family for an exclusive jewellery-buying experience, where the whole showroom was emptied out for them.
Upon entering the showroom, the bride is welcomed with a traditional Gujarati ritual, Kanku Pagla. The ambience resonates with the essence of local culture. The attentive staff members then guide the bride and her family through a captivating display of jewellery, seamlessly integrating the local aesthetic into the shopping experience. An intrinsic part of the Shilpa Brides' experience is the presence of a skilled makeup artist. This thoughtful inclusion mirrors the significance of weddings in Gujarat, where the bride's wedding shopping carries immense importance, and the presence of family is paramount, symbolising unity and togetherness.
An annual event, this digital and in-store collaborative campaign receives thousands of entries from amongst to-be brides in the Rajkot and nearby regions every year, and has become a much-awaited lead up into the wedding season.
Shilpa Lifestyle embracing tradition in digital marketing strategy
We hope these examples of digital marketing have given you enough to understand the importance of understanding local cultures and perhaps given you a few ideas of your own…
Some concluding thoughts
Using local language and slang, leveraging local festivals and partnering with regional influencers, are a few ways of seamlessly integrating local culture into your brand. And this is not just true for social media, but is also something to be kept in mind when you look for SEO services in ahmedabad or hire a web development company in ahmedabad. Incorporating the local element is the secret ingredient to breaking the brand clutter and standing out. The outcomes speak for themselves — after all who doesn't want increased brand recognition, stronger customer engagement and a genuine connection with the local audience?
So if you are looking to add a local flavour to your digital marketing, we are just a mail away. Drop us a hi at [email protected] to create magic online!
Frequently Asked Questions
Local cultural references provide the residents with a sense of familiarity, reliability and connection, which increases the impact of the marketing content.
Including traditions in branding creates a distinctive and memorable brand experience that also connects with cultural identity and strengthens ties to the community.
Digital marketers can establish a distinctive and genuine brand presence by integrating local culture and developing content and campaigns that reflect the city's values, customs and tastes.
Some brands that have done this successfully include Snickers, Zomato, CarzSpa and Junglee Rumee. Scroll up and read the blog for the details of how!